PROMOTING YOUTH MICRO ENTERPRISES 

PROGRAMME OBJECTIVE
The programme will contribute to the empowerment of young people, alleviation of poverty, enablement of entrepreneurship and the creation of new businesses.  Financial resources and managerial support services will be provided to promising microenterprises and startups.
PROGRAMME COST AND FINANCING
The programme is financed by central Government through an annual resource allocation of EC$2.4 million.
 PROGRAMME BENEFICIARIES
The main beneficiaries of the programme include: 
Potential and existing Micro and small enterprise owners between the ages 18-40.
The following sectors and sub-sectors are the areas of focus: agriculture production; agro processing; light manufacturing; fisheries; services including beauticians (hair dressing, barbering); arts and craft and any other businesses endorsed by the Steering Committee and approved by Cabinet.
PROGRAMME SUPERVISION
The Center for Enterprise Development (CED) will have overall responsibility of the Programme supervision of the PRYME Implementation Unit.  
Contact Information
First Floor, Moussa Building
Grenville Street
P.O. Box 2343
Kingstown
St. Vincent & the Grenadines
Telephone:   (784) 451-2235  |  (784) 451-2236  
e-mail: This email address is being protected from spambots. You need JavaScript enabled to view it. 
---
APPLICATION FORMS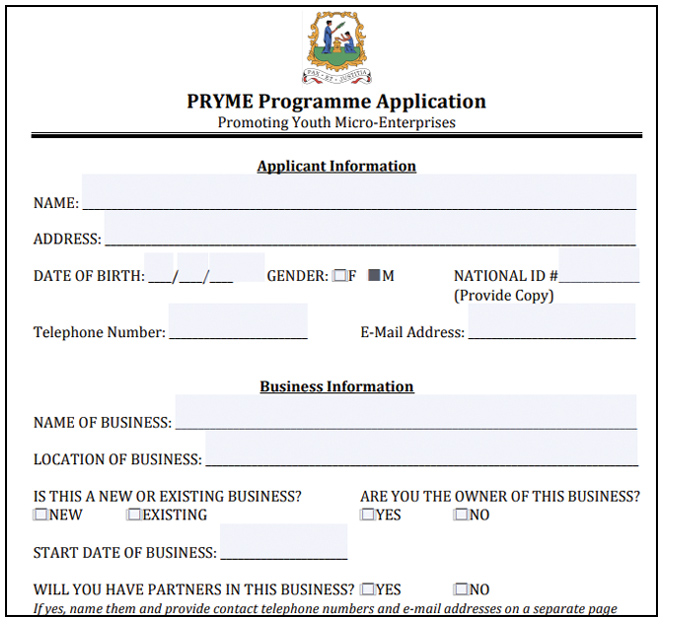 Application forms are available at the Office of the Prime Minister, CED, Invest SVG, Ministry of Finance and Economic Planning, Chamber of Industry and Commerce and the Revenue Offices in Bequia, Canouan and Union Island. 
Completed forms can be submitted to the following e-mail: This email address is being protected from spambots. You need JavaScript enabled to view it.